Precisely aligned holes with our machines to drill Georgian bars
Precise drilling for an optimal connection
For the R&R crossbar connection, a hole for the connecting pin is necessary in the continuous Georgian bar. We have developed special drilling jigs for this purpose. In these double drilling jigs, the Georgian bars are first clamped centrally and then precisely drilled on the lateral wall of the Georgian bar profile. Only precisely aligned holes in the muntin profile result in a perfect Georgian bar cross. 
Fully automatic double drilling device DB-VE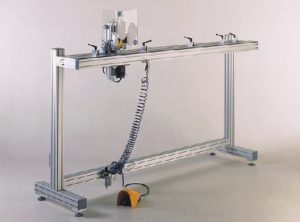 Manual double drilling table BTD
Subject to technical changes
© 2023, Rottler und Rüdiger und Partner GmbH. All rights reserved.